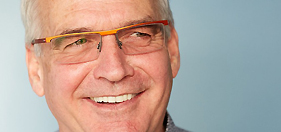 Don Waltho is whole-heartedly dedicated to the professional floral design industry in Canada – as the Founder and Director of the Canadian Institute of Floral Design, an educator, and naturally, as a floral designer.
Don is a second-generation florist, who was introduced to the floral industry as a young boy by his father, floral master Bill Waltho. His talented father, who was named Teleflora's Florist of the Year in 1981, easily inspired Don. As a teenager, Don formally studied floral design with Bob Ross, and attended the design schools of FTD, United Flowers-by-Wire Canada and Flowers Canada. The Waltho family owned and operated the Toronto-based Avenue Flower Shop as well as three successful flower shops in Sydney, Australia.
Over the last 30 years, Don has created an exceptionally well-rounded career in the Canadian floral industry. He has experienced the retail side of the industry (as a florist in a shop for several years) as well as the wholesale side as a successful sales rep for such prominent suppliers as Highland Evergreen Supply and Dales'.
Don's first classroom teaching position was at the Toronto School of Floral Design. Several years later, in 1988, he founded his own school, the Canadian Institute of Floral Design – a private career college dedicated to training individuals interested in entering the professional floral design industry. This is the only school of its kind in the province that is registered and approved by the Ontario Ministry of Training, Colleges and Universities. To date, the school has trained over 4,000 professional florists in its 30 year history.
The Canadian Institute of Floral Design has been favourably featured in various media – Slice Network's Wedding SOS and Rich Bride, Poor Bride; City TV's Breakfast Television; The Erin & Mike Morning Show on CHFI 98.1 FM Radio; Your Morning with Richard and Chris on 103.9 Proud FM.
Today Don is not only well known to the local floral design industry, he has also become a Canadian ambassador to the international floral design community. He acts as a floral design consultant to the hotel industry in the Middle East, having trained professional florists in the United Arab Emirates. He was also recently invited to be a keynote speaker at the Seven Star Hotel Conference in Dubai. He is continually invited to create remote educational programs for floral design students all over the world.
---
Melissa Cristina is a proud graduate of the Canadian Institute of Floral Design. Having originally attended Ryerson University for Fashion communications, she graduated with a Bachelor of Design. She has always had an eye for colour and creativity. She enjoys painting in various mediums including watercolour & acrylic, and loves drawing and illustrating as well.

In 2007, along with two other associates, she created & published a city centric tourist style magazine that involved the talent of local writers and
photographers teaming together to promote everything Toronto has to offer. Graduating from CIFD in 2010, she immediately began working in two flower shops to gain hands-on experience and refine her talents.

In 2011 she began working at a respected Toronto floral design studio as the Head Designer and quickly worked her way to Flower Shop Manager. It was during these years she discovered her passion for wedding design. While employed at this studio her work was illustrated in major wedding shows, including Wedluxe, The Wedding Co. Show, photoshoots and many private industry shows.

She has had designs in many publications including Martha Stewart Weddings Magazine & Wedluxe Magazine, as well as television shows such as City Line with Marilyn Denis, and various other well known wedding and event blogs. Her designs have also been displayed in multiple high end hotel lobbies and restaurants in the downtown core.

Melissa has recently joined the CIFD faculty as an instructor with a penchant for specializing in Bridal design. She will be spear heading a new, updated adventure through wedding workshops, showcasing current trends and techniques to those passionate and interested in looking to advance their skills. CIFD is very happy to have Melissa in the faculty.
---
Ashley Waltho brings a fresh outlook to Canadian Institute of Floral Design as she carries on the tradition as a third generation Waltho florist. Her inherent fascination with the floral industry stems back to when she was 15 years old and started her first job as a flower shop assistant for Clargreen Gardens. Her natural talent and interest led her to pursue and graduate from the full 105-hour CIFD professional daytime program, in June 2000. Ashley has since continued to work within the retail floral industry, including assisting at the family operation, the Waltho Floral Collection.
In 2003, Ashley joined the CIFD team as an administrative / teaching assistant for both the full and part time classes. She has continued to contribute her own passion and growing knowledge of the industry to CIFD as a member of the faculty.
In addition, Ashley has been sought after to create the flower arrangements for several weddings and upscale events. Her exceptional knack and novel ideas for design make her a choice florist for the contemporary bride.
Ashley completed her post-secondary education in the Business Marketing program at Sheridan College Institute of Technology and Advanced Learning.
The CIFD educational team is proud to have Ashley applying her dedication, experience, education and ever-growing aptitude for the industry to our institute. She brings an innovative angle and is a significant addition to our faculty.
---

Tamae Shioguchi

CIFD is delighted to introduce Tamae Shioguchi as a part of our team and specialized Ikebana Sensei / Instructor. Tamae has a great deal of practice and experience behind her. She was brought up in Kyoto, exposing her to the natural beauty of Japan for most of her life. She has an appreciation for beauty in everything. In addition to Ikebana, Tamae has a love for all the arts, including music, painting, sculpting, pottery, landscape, architecture, photography and modeling. She has always been creative and has a passion for design.
Tamae graduated from the Kyoto College of Art and Design. She worked for the Kawasaki Architect Structure Institute in Osaka Japan, and then worked in Tokyo as a director of her own photography studio.
In 2001, Tamae moved to Canada, first living in Montreal where she taught Ikebana and became an active member of the Japanese Cultural Association. She demonstrated her Japanese culture in numerous ways including teaching origami, how to wear a kimono, and demonstrating Ikebana at the Montreal Botanical Gardens, Ikebana International and many other art exhibitions.
Tamae is a graduate from the Canadian Institute of Floral Design, and has continued to work within the retail floral industry and freelancing in floral design events. She is excited to instruct Ikebana at CIFD and prepare lessons for students to create their own balance of nature and human life into floral design based on traditional Zen philosophy.
---

Sarah Wu is a designer who draws equal inspiration from the curve of a tulip stem and the shape of a letterform. She owns Petite Studio, a design workshop that specializes in the crafts of floristry and graphic design. Sarah is certified as a professional floral designer and instructor by the Canadian Institute of Floral Design and is a part-time faculty member at the school.
Sarah is a designer who savours the creative process, whether the medium is fresh flowers or ink on paper. A true professional designer, she enjoys sharing her perspectives and experiences with students. Sarah takes on a mix of commissions for a wide variety of clients – always balancing the notions of artistry and practicality.
Sarah holds a Bachelor of Design degree from York University and Sheridan College, and an Honours Bachelor of Science degree from Queen's University. Her design work has earned recognition from The Advertising & Design Club of Canada, Applied Arts magazine, the Black Book AR100 Show, Coupe International Design and Image Competition, and the Type Directors Club.
---
Rada Ristich is the newest member to join the Canadian Institute of Floral Design - CIFD faculty, bringing with her a prestigious design calibre and expertise as a Floral Master.
Rada has been a part of the Floral Industry in Toronto for 34 years. She was the proprietor of Peter Paul's Flowers in Toronto for 25 years.
Rada comes from a wide range of experience after graduating from a Registered Professional Floriculture Program in 1980. Throughout her career she has won and received numerous awards for her floral creations and her dedication to the industry. Rada has designed in numerous design shows across Canada, She represented Canada at the World Flower Council Summit in Nice France in 2008 and has designed for the King of Malaysia and exhibited for two years in Kuala Lampur's largest Flower Show in 2009-2010.
Rada enjoys her membership in CAFA (The Canadian Academy of Floral Art) and for several years sat on the Board of Directors as ''Director of Special Events'' organizing designers and creating designs for the "Ottawa Tulip Festival from 2003-2009 and received the ''Presidents Award" for her dedication and hard work. She organized the florals and designed for the Canadian Music ''Juno Awards'' in several cities across Canada from 2007-2011, and for ''The Love of the Bloom'' Breast Cancer and Floral Ball Gown Gala in Ottawa in 2010 and received the ''Presidents Award'' for her dedication and commitment to the cause.
Rada has created designs for many TV celebrities, musicians, actors and Royalty. This past year she designed a floral ball gown for ''Toronto's Fashion Week'' finale ''Dare to Wear Love 4, Flower Power'' and lead a floral team of industry associates to create several floral designs and accessories for 25 of Canada's top Fashion Designers, with passion and pleasure she will be leading it again in upcoming future dates.
Don Waltho, Managing Director of Canadian Institute of Floral Design is extremely happy that Rada has joined the CIFD faculty; "Rada continues to challenge herself in the floral profession and her floral abilities".
Rada claims -- ''Flowers are all I know, Flowers are what I do!"
---

Brad is currently on Sabbatical
Brad Higginson has been rooted in the floral industry ever since he began working with his father at Alma Florists Inc., established in 1952 in Toronto. He grew into the business and has since been the proud, third generation owner/operator of Alma Florists for more than 20 years. Brad graduated from the Floral Design program at Seneca College and also holds a Bachelor's Degree in Commerce and Economics from the University of Toronto.
CIFD welcomes Brad's wealth of natural talent and his dedication to lifelong learning and educating floral design. He is an active member of the Board of Directors for CAFA and proudly participated with fellow CAFA members in floral creations at the Canadian Juno Awards and at the World Flower Summit in Nice.
Returning to Seneca as a former graduate, Brad became an instructor and has since shared his flair for and extensive knowledge of the floral industry with many privileged students. Brad enjoys demonstrating his innovative design style to those who are eager to learn about this exciting industry, and takes a professional and relaxed approach in communicating his passion for all that is flowers.

Brad has been featured in numerous professional floral design shows and venues, including Canada Blooms. Brad's floral designs have been featured in Canadian Florist magazine and he and his team of talented designers at Alma Florists have been featured on a number of occasions on City TV, CTV news, Global Television and in the Toronto Star.
---
CIFD is pleased to announce and welcome Tom Colin to the Board, in the role of Senior Advisor. Tom has been involved in the floral industry for over sixty years. His career began in Holland, and continued when he immigrated to Canada. Tom Colin was the former instructor at Toronto School of Floral Design.