Our Students Say it Best!
Students... be sure to visit our Classifieds page for job postings.
Below are some personal testimonials that come our way from time to time that give us great satisfaction. These are from former students. Most of our students have gone on to become professionals themselves.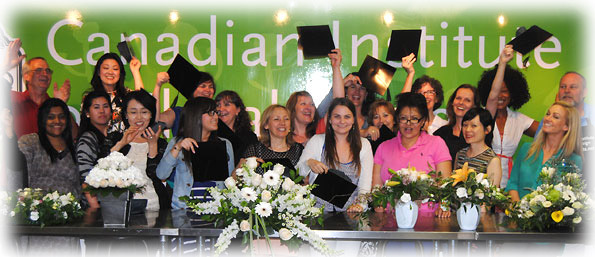 Hi Don & Ashley!
I've had such an incredible floral-filled summer with my gig at Blush& Bloom, I can't thank you both enough for the tools I gained from you to kick me off in this direction! What a year it's been, I'm so glad I took a leap back in January and signed up for your course. I managed to pull off an entire wedding by myself a few weeks ago also! (Though I'm not doing that again for a looooong time and I need to revisit how to actually budget things so I make a buck or two at some point). Being a floral studio assistant suits me just fine and is a proud and shiny new section on my resume.
Hope all is well! Love following you both around via social media!

JPo
Hi Don and Ashley,

I just wanted to tell both of you that I had an interview at Euro Style Flower Market this afternoon. I am thrilled to share with you that I was offered a part time position starting next Tuesday , which I'm sure that in a couple of months, will lead to full time employment. Thank you both so much for making my transition into to the wonderful world of professional floral design so incredible. I now have a livelihood that I can be proud of and more importantly be happy doing for the last decade of my career.

Sincerely,
Jane
Awesome School!
Hello Ashley and Don,
I would like to take this opportunity and thank you both for the great experience I had in your February 23, floral design course. The atmosphere was very welcoming and I definitely learned a great deal. I now have the confidence to run my business with more knowledge and also be creative with my floral designs! A big thumbs up to The Canadian Institute of Floral Design!
Thank you kindly,
Grace Patitucci
Hi,
just wanted to say thank you again for all your patience. I really enjoyed the school, learned alot and took great memories home with me. All the people working there are amazing. Impossible to find somebody who is more dedicated as you people. Thanks again and good wishes to all of you.

Greetings from Ottawa
Elizabeth
Hi Don,

What a wonderful experience the CIFD course is! The caliber of instructors is outstanding with each one bringing something new and exciting to the classroom. I felt welcomed and immediately at ease from day one (even though I was a half hour late!) thanks to your friendly and laid back approach.

Please convey my thanks to Nemo for his encyclopedic knowledge and obvious passion for flowers; to Sarah for her kindness and encouragement; to Brad for his inspiration and for making it easy to comprehend how just tweaking one thing can impact the overall design/aesthetic of an arrangement; to Tamae for her patience and willingness to help; to Ashley for her friendly instruction and keeping us "on point"; and to you Don, without you there would be no CIFD.
This course was so enjoyable that I looked forward to each class despite the daily 4 to 4.5 hour commute. The class outing to the wholesalers was very helpful in locating supplies and getting our foot in the door to wholesale outlets. My sincere thanks and I wish you continued success in educating floral designers all around the world.

Yours truly,
Carol-Anne Barnes
| | |
| --- | --- |
| | Former Alumni enjoys a career in Floral Design. Sarah shares her positive experiences as a graduate of CIFD. |
Greetings from Winnipeg, Manitoba
It's been awhile! You often mentioned that if we CIFD alumni ever had exciting updates, to share them... so here I am, just over 2 years after graduating from the program, and starting my own business! I left Academy Florist in Winnipeg last year to specialize in event and wedding florals.. and I couldn't be happier with my progress in the industry so far! Having been hired on for several successful contracts with some of the top design companies here in Winnipeg, as well as taking on my own clients, it has been quite a ride so far and it's only just begun! With over 30 weddings booked this season I am thrilled to have taken a leap of faith into the business world as a self employed floral designer. A big thank you to the CIFD family of teachers that gave me the tools to grow in the industry and the confidence to push myself to the best of my ability! Should you wish to see my 2010 and 2011 portfolio please feel free to become a fan on Facebook
( FacheForwardDesigns :)
Thank you again and all the best!
Cheers,
Britney Lee Fache
Fache Forward Designs
Hi Don,
I had taken your class a year ago and I have been meaning to drop you an e-mail for a while now. I do not know if you have a "Success Rate" or "Shop Feature" area on your website. However, the job I had talked to you about taking last November after graduation, in Scarborough, has completely turned out. It is more then I could have imagined!
I am coming up to my one-year anniversary at Ellis Flowers and what an amazing experience it has been. I am the manager and principle designer for the store with another designer on staff who also graduated from CIFD; she heads up the wedding end of our company.
Over the last year, we completely renovated the entire store and what a dream it is to come to work every day! Each of us has our own offices, design stations, computers and a gorgeous new wedding consultation room!
We just designed a wedding up in the Muskoka's over Thanksgiving, a weeklong project and what a great experience that was. We did everything from the outdoor urns, to the mantle inside, all the product and décor we brought with us in a U-Haul.
We advertise through various kinds of media and the business is slowly growing as it takes time with any new ownership. We hope to re-do our outdoor signage shortly to have more of a roadside presence and are geared up for Christmas already!
I hope all is well, thanks to your website classifieds Adam, Yien and I were able to connect and it has been not just a great working partnership, but friendship from the moment we met. Thank you for the wonderful experience I had at CIFD, and the amazing contacts I was able to make by taking your course.
Sincerely,
Amy Van Gerven
ELLIS FLOWERS www.ellisflowers
To the Educational Team of CIFD ,
Thanks for sharing your 100+ years of floral experience! I had no idea that there was so much to know. You've inspired & delighted me with all the new skills that I can bring back to Barbados & then to Canada in a few years. Please look me up if you're ever on our tiny island.
Kim
| | |
| --- | --- |
| Sucessful business owner and graduate, Paul Girling, talks about the benefits of attending CIFD in preparation for the Floral Trade | |
"Simply an outstanding educational experience! You spared no effort and gave the best of yourself. Many, many thanks."
Dear Don,
Thank you so much. You opened my eyes for flowers. I really enjoyed the three weeks. I will never forget CIFD.
Thanks Katie
Could these students be happier?

After a successful trip to Dubai, a group photo captured the mood perfectly. These graduates are the finest trained team of florists in the Gulf. Each florist is tested and proven in a full range of floral styles. They have now moved on to 5-star hotel procedures and are well trained in floral events production. Bravo!
Don,
This has been one of the best experiences for me. I look forward to using everything I learned!
Heather
"Thanks CIFD, I learned so much and enjoyed every minute of it." "You`re the best, thank you for the great experience you shared with me." "I have enjoyed this course immensely! Thank you for being such a wonderful teacher, but above all thanks for teaching us that we can achieve our dream."
Don,
What a great Experience. You are dynamic and energetic, and full of information!
Thank you,
Trish
Dear Don and Ashley,

Just a quick note to say thanks. I thoroughly enjoyed my three weeks with you and really looking forward to a future in the floral industry!

Sincerely,
Leanne Kelly
"C.I.F.D teaches more than creative floral designs and techniques. They demonstrate encouragement, support, and a sense of commitment to their students. Attending classes at C.I.F.D. has been a very positive and enjoyable experience.
"Thanks CIFD, I learned so much and enjoyed every minute of it." "You`re the best, thank you for the great experience you shared with me." "I have enjoyed this course immensely! Thank you for being such a wonderful teacher, but above all thanks for teaching us that we can achieve our dream."
Hello Don,
I just wanted to send you a quick "THANK YOU" for referring Lucy B. to my store. She will be a great asset to me and l am looking forward to her start date of September 10th. You have been very helpful in not only finding Lucy, but providing general market/salary information. It is nice to know that you and the Canadian Institute of Floral Design is a great resource for us in this industry.
Thanks,
Steve
Thanks Don,
I have already told my friends that this was the best course I have ever taken, and the best money I have ever spent on education. Your course is outstanding! Canada is fortunate to have CIFD.
Will keep in touch - take care, Susan
Thank you very much Don, Monica, Darren & Nemo. I learned a lot in three weeks and I am happy that I choose CIFD . Since I took the course I feel confident to do any kind of arrangement and I am doing very well so far. My shop has been changed from cut flowers to florist.
Thank you for your help and advice.
Daniel
Hi Don,




Missing flower school. It's amazing how it becomes part of one's way and routine so quickly. Felt oddly displaced yesterday not coming to school. Anyway, I will be going to The Flower Depot today and hope to start on my new florist career!
Thank you so much for the wonderful time you gave us in the form of your great knowledge and teachings. It really will hold us in good stead for the future.

Take care and for sure we will keep in touch and send the us emails to update us on upcoming courses.

Many thanx once again,

a

happy student,
Sharon




p.s. I'm going to attach a PIC of my Horizontal Arrangement from Friday to show you how beautiful it looks on my entrance hall table, it is like it was just created for that spot!! Don't you think?